Watermark says "NO" to useless security! You should expect more than a spectator when using security guards.
There are many large security companies who offer low rates, but ultimately these results in disappointment with a sub-par and most the time incapable security guards. We have all seen them. This is why the security industry has such a poor reputation. Watermark is a small business with its focus on quality. Watermark security personnel are not just guards, any company can do that. Watermark utilizes trained professionals in the field and on assignments that allows us to provide actual protection. Instead of having poor security whose only response is to call 911, Watermark provides the personnel that can respond appropriately with action that could save your life, your customer's lives, your product, and your property. Watermark offers protection to security conscious businesses who understand the importance of real security.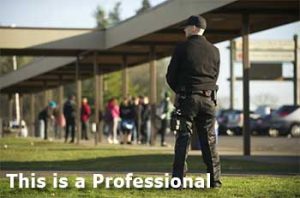 Watermark provides professional uniformed security for schools, synagogues, child care facilities, hospitals, and any business where professional protection is expected. Even though armed personnel may be the best option, you may choose not to use that level of security. Watermark can also provide unarmed personnel, who are in good physical condition and can handle crisis situations as needed. We call them Protection Specialist, as they are better trained and conditioned.
Our armed Off Duty Officers (ODO) undergo extensive and continual training with weapons and defensive tactics. Our ODO's come from varied backgrounds including law enforcement and military and are highly experienced in personal protection and have real life experience with evaluating the use of varying levels of force. Watermark provides protection for:
Private Industry
Private Events
School Campuses
Home Owner Associations
Businesses
Uniformed Protection
Plain Clothes Protection
Armed
Unarmed
Personal Protection
If you believe your circumstances demand the best, then you need a Protection Specialist from Watermark.