You just won a judgment in court. Now how do you collect the money owed to you? The defendant said he won't pay?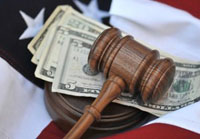 Now you need Watermark Investigations Group to locate personal property, vehicles and other assets you can levy start the judgment recovery process.
We can also help you through the judgment recovery process filing the writ that enforces the judgment or maybe a debtor's exam where you question the defendant as to the whereabouts of his assets or banks accounts. Maybe it's just time to garnish the defendant's wages. Watermark Investigations Group can assist you all the way to the bank.